Jerusalem Summer 2018:
8 Kid-friendly Family Activities (with a splash)!
As the summer sun starts to sink, the steamy days give way to deliciously cool
late afternoons and breezy evenings — perfect for climbing hills and checking
out all the vistas sans the sizzle. But if you find yourself with children to
entertain midday, here are 8 suggestions for chilling out with a splash!
Splash in the Fountains | Park Teddy
Cool off in the fountains at Park Teddy directly opposite the Old City Walls
and the Mamilla mall. A refreshing park great for families and picnics, Park
Teddy offers half-hour choreographed water displays every two hours starting
at 10:00, 12:00, 14:00 and 16:00 during the day and after dark, with added
lights and music at 20:00, 21:00 and 22:00. BYOT (bring your own towels).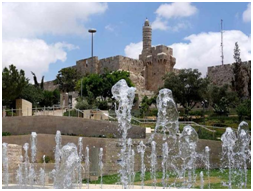 Think Tanks | Jerusalem Aquarium
One of the main goals of the Jerusalem Aquarium is to raise awareness about
wildlife habitat preservation of the sea. That is the Mediterranean Sea, the Red
Sea, the Dead Sea and the Sea of Galilee.
The aquarium is unique because it is designed to provide discovery experiences
for visitors of all ages. There's an interactive "popup" where visitors can crawl
inside a plexiglass bubble and be surrounded by a Red Sea coral reef with clown
fish swimming all around them. Rays are swimming in another shallow pool to
show they are found in the Mediterranean Sea. Visitors can buy special food and
feed them.
At the end of the aquarium tour, there is what is called the "commitment" room.
There visitors are urged to pledge to protect sea life by promising things such as
not to drive four-by-fours along the shore, not to take sea shells, or bring plastic
bags to the beach. It's not tasty, but those creatures think the plastic bags are
jellyfish!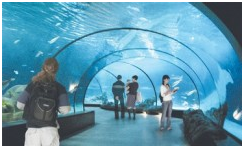 Biking and Bathing | First Station Complex/Ein Lavan
If you can't beg or borrow a bike, then rent one at the First Station complex
and explore the Park HaMesila – the Train Track Park that follows route of the
old Jerusalem train track for seven winding kilometers to the Biblical Zoo. The
outbound trip is largely a relaxing downhill ride. At the end of the bike path,
cross the bridge to the zoo car park and continue your journey along the dirt
road going west. Soon you'll find yourself at Ein Lavan, where you can bathe
in the well-maintained natural springs. If you're feeling adventurous, continue
a little farther and you'll find an ancient mikve (ritual bath) located right beside
the track.
First Station, 4 David Remez, Jerusalem, Israel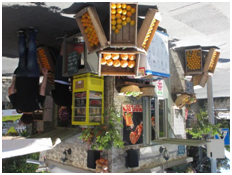 Ein Lavan, Jerusalem, Israel
Sip Juice | Mitz Petel
The quality and variety of fresh fruit and vegetables in Israel means that
you're never far from freshly squeezed juices. Summertime means mangoes,
passion fruit, nectarines and grapes are all in season. Whichever flavor floats
your boat, you can always select another combo tomorrow. Head to Mitz Petel
for some nourishing nectar on your way to the zoo!
Mitz Petel, Park HaMesila at Derech Beit Lechem, Jerusalem, Israel
Dip in the Hills | Kennedy Memorial
Head for them hills – the Jerusalem hills offer breathtaking views, cooling
breezes and, in many places, natural springs with water bubbling up cold
enough to take your breath away. Although public transport is possible, it's not
all that practical. For a family-friendly hike with a series of cool springs, try
starting with a 360 degree panorama at The Kennedy Memorial before
heading out along Shvil Hama'ayanot ('Path of the springs'). BYOT (Bring
your own towels).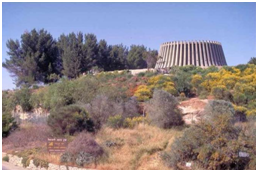 Yad Kennedy, Jerusalem Hills, Jerusalem, Israel
Ponds and Fronds | Jerusalem Botanical Gardens
One of the most beautiful gardens in Jerusalem and the home of the Flower
Train, the Jerusalem Botanical Gardens offers a fun, wet, interactive section
known as the Discovery Trail. Located in the North America and Australian
sections of the Botanical Gardens the adventure trail allows kids to play with
water, write with rocks, dig up earth and that's just the beginning. Donated by
the friends of JNF – KKL Germany the area is divided into water, earth, roots
and trees. The water section includes a beautiful stream where kids can learn
about dams, the flow of water and how to extract water. Touring the sections
of the Jerusalem Botanical Gardens (JBG) is like visiting different
geographical areas of the world: while most botanical gardens are organized
by botanical grouping, JBG is arranged by the plants' geographical origin.
This is a great activity for grandparents to do with their grandchildren. Not
babysitting today? Lounge on a paddleboat or stop off at Caffit by the pond for
a Café Kar (American Iced Coffee) or Blended Lemon Nana. Jerusalem kids
under 18 enter the gardens for FREE. Special events & festivals are an
additional fee.
Ice Cream with Flavor | Mousseline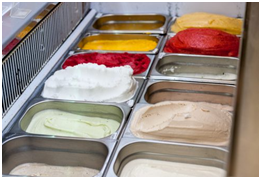 Jerusalem is not yet an ice cream mecca. However, the hands-down flavor
winner is tucked away on President Street facing the President's residence as
well as sitting on a side street next to Shuk Machane Yehuda. The grateful
visitors to Mousseline can taste an array of creatively flavored ice creams and
sorbets including Grapefruit and Basil, Black Sesame, Chai Masala,
Cinnamon Honey, and Wasabi as well as the more traditional tastes such as
French Vanilla and Belgian Chocolate.
Mousseline, 6 HaEshkol St, Jerusalem, Israel, +972 2 500 3601
Mousseline, Hanasi 10 077-3012926
Next time check out the water tunnels in the Old City!
Recent Posts
What is it about the pomegranate, or rimon, that makes it such a hot and beloved symbol in …

I think about what makes for good and satisfying design a lot of the time. And although I have never …

Why one of my missions is to make products in Yiddish.Whenever I make or sell a product with Yiddish …